The Best Silverado Ever 2019
Over the weekend, Chevy unveiled the all-new 2019 Silverado in Dallas, Texas, celebrating 100 years of Chevy Trucks. Chevy's bread-and-butter workhorse was redesigned from the ground up to give customers, Chevy says, "more choices, more capability and more functionality," than any truck they've made before.
---
The 2019 Chevrolet Silverado is 450 pounds lighter than the previous model-year, features a wider bed, and offers a wider range of trims and engine/transmissions combinations, including a new turbo-diesel engine.
The new Silverado offers a box that is 7-inches wider, and 1-inch longer than the current truck, and includes a power tailgate that can now be opened or closed by key fob, General Motors announced at the North American International Auto Show.
GM will be offering the 2019 Silverado with six available engine and transmission combinations, which includes the all-new Duramax 3.0L inline-six turbo-diesel engine. Also available are the new 5.3L and 6.2L V-8s with available Dynamic Fuel Management that actively shuts off any number of cylinders, in a variety of combinations, depending on immediate needs to optimize fuel economy, GM said. The 3.0L diesel and 6.2L engines are paired with a new Hydra-Matic 10-speed automatic transmission as well as start/stop technology.
The 2019 Silverado includes a wheelbase that is 3.9-inches longer, with an increase in overall length of 1.6 inches. Also, a higher-grade steel is used in the bed of the vehicle, which is 88-pounds lighter than its predecessor, and it has 12 fixed tie-downs, with a strength that has doubled to 500 pounds of force before bending.
The cab itself has also been adjusted for the new model year: crew-cab models now offer 3 inches of additional rear-seat legroom for 44.5 inches of front legroom and 43.8 inches of rear legroom. Meanwhile, newly available storage options include two 10-liter bins integrated into the second-row seatbacks and a large 24-liter storage tray under the second-row seat.
Available technology for the 2019 Silverado includes 4G LTE Wi-Fi connectivity, Apple Car Play, Android Auto, wireless phone charging and OnStar safety and security features. Additional safety and convenience features will be announced later this year.
Three new trims have been added to the 2019-MY: Custom Trail Boss, RST, and LT Trail Boss.
---
To show off all the new "choices" and "capability," Chevy debuted the Silverado Trailboss, an entirely new trim that sits one step above the Z71 package and comes with few performance extras. Exact details and numbers on the new truck and trim were scant, but an official announcement is coming next month at the North American Auto Show in Detroit. From what is known, Chevy gave the new Trailboss all the fixings from the performance-forward Z71 package as well as a two-inch suspension lift and slightly more aggressive bodywork. It may not be the Ford Raptor rival we've been hoping for, but it should be on par with Ford's FX4 off-road package. For those wanting the same off road capabilities but, in a chevy brand because we don't all buy Ford, Dodge and Toyota.
Now, with updated styling and a lighter construction, the Silverado is poised to continue the fight against the F-150. Is this enough to move the Silverado from America's number-two best-selling truck to the top spot?
---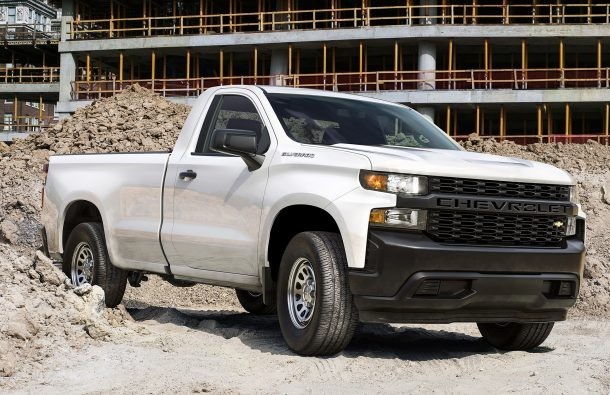 Chevy has stuck the Work Truck (W/T) trim on its most poverty-spec pickups for ages, with most of them destined for a lifetime of hard and difficult work, only to be mercilessly sacrificed to The Crusher once they were used up. Back in the '90s, Chevy also imbued the W/T with a vast plastic grill and, seizing on the opportunity, shrewdly used Mike Schmidt to market it as a benefit. It's the grille on the 2019 Custom W/T that hooks me and reels me in. From the press images released by Chevy, it seems that at least two of the trims in the so-called "High Value" group will earn it: the W/T seen here and the Custom Trailboss. That GM saw fit to craft a completely separate and bad-ass grille only to bestow it on the most affordable model is bloody fantastic.
What we have been told is that the Work Truck will feature that fabulous C H E V R O L E T billboard across the grille and tailgate, blacked-out trim, and rough-n-ready 17-inch steel wheels for a good dose of durability. The interior will be available in either skin-searing vinyl or cloth seats. It'll even have a 7-inch color touch screen, likely with a backup camera.
No mention is made of a V6 powertrain in any of Chevy's documentation, leading this author to believe the 4.3-liter has been jettisoned and the 5.3-liter V8 motor will be the base engine. Even better. Chev's V8s in its trucks are promised to shut down "any number" of cylinders as it deems fit in a bid to trim fuel consumption.
I'll reserve final judgement until I see the Monroney but, realistically, unless the sticker jumps to the mid-30's I can't see the Silverado 1500 Work Truck being booted off our Ace of Base list. They seem to be aping the Ford Raptor type grill, Toyota has done this as well….doesn't really work. I think it would look a *lot* better with a simple bow tie emblem the text across it.  Would most people just stick a push/brush/light bar on the front? It would break up all that matte plsatic ABS. Again, an extended cab would be good here.
---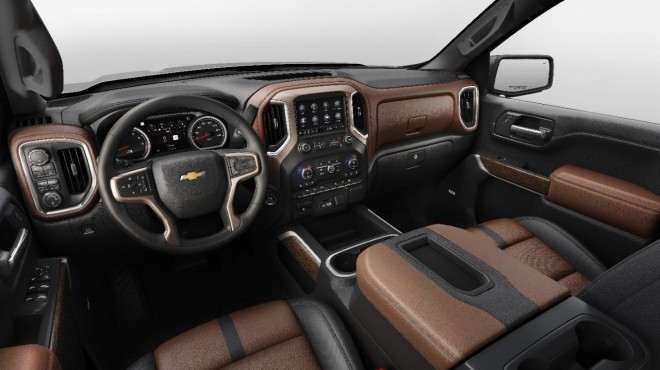 Interior
Unlike the exterior, the cabin of the all-new Silverado isn't too different than it was before, influenced strongly by customer feedback, while packing an extra three inches of rear leg room for crew-cab models. When you review the incredible interior style and features of the 2019 Chevrolet Silverado, you may think that you are peering inside a luxury sedan. Everything about the interior of this pickup truck is refined yet durable. In fact, Chevrolet carried over much of the design and features from last year's interior into the new model. One notable difference is that the cab is roomier in this year's model. This additional space in the cab comes from a more elongated body style.  This includes power one-touch windows, power door locks, a backup camera, heated side mirrors, a six-speaker stereo system, a tilt adjustable steering wheel with cruise control functions on it, manual seat adjustments for the front sitting area, a driver assist handle and more. The interior has vertical instrument panel to help improve visibility and keep drivers alert. The new Silverado will also have a large touchscreen over buttons so that you can easily access media and the climate control system, while a range of trims will allow for both premium cloth, vinyl, and leather materials.
The only question that comes to mind is was the interior even updated at all? Looks straight out of 2014 outside of an updated infotainment screen. Whats with all the nasty painted silver accents in there? Does that ever look good to anyone? It looks terribly cheap and in fact, especially ruins the the look of the steering wheel but, it is about preference. Seems like Chevy only worried about the exterior and put no thought on the interior.
2014 Chevrolet Silverado Interior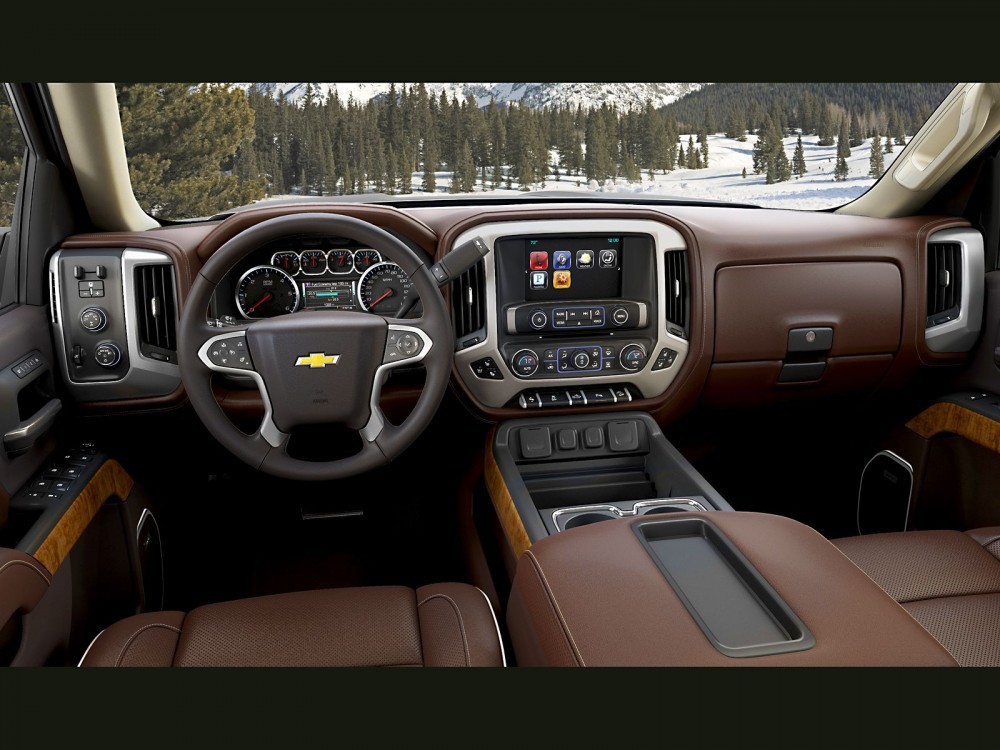 ---
SAFETY
Truck buyers want to enjoy a safe ride in their new vehicle, and you will be pleased to learn that the 2019 Chevrolet Silverado has a host of thoughtful and effective safety features. In fact, with so many safety features in the truck, you will feel confident driving your family and friends around in it. Some of the many safety features found in all trim levels this year are tire pressure monitoring, side and front airbags, a passenger airbag deactivation function, a front center seat lap belt, a post-collision system, fog lights, engine immobilization, four-wheel anti-lock brakes, xenon headlamps, front and rear ventilated disc brakes, adjustable headrests for the front and rear seats, rear child safety seat latches and more.
---